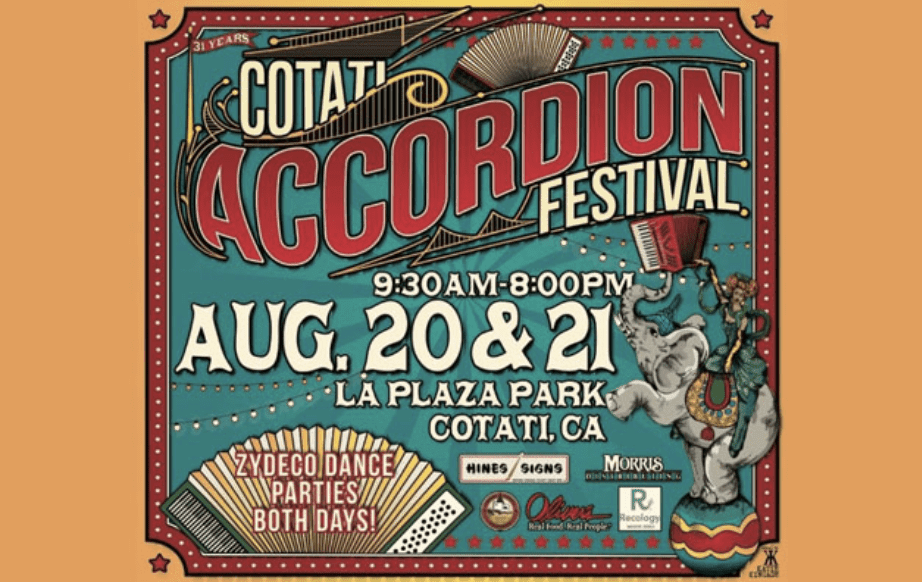 The 31st Annual Cotati Accordion Festival will be a two-day, multicultural, multi-generational accordion extravaganza held in La Plaza Park in downtown Cotati. Music at the festival will range from Conjunto to folk, jazz, Irish, Venezuelan, rock, classical, zydeco, western and more. 
The event will include a Jam Tent, a Zydeco Dance Party, a Student Stage, the Ray's Deli Stage, and two main stages, along with over 60 vendors selling crafts, accordions, food, wine and beer.
There are so many top-notch performers who have attended the festival over the years that it would be impossible to name them all but he did make mention of a few.
AUGUST 20, 2022 SATURDAY
(PERFORMERS)

Sergei Teleshev
Maria Telesheva
Nuevos Aventurosos
Ginny Mac
Honorary Director
Lady of Spain
Alex Meixner
Cory Pesaturo
The Mad Maggies
Nathan & Jesse
Motordude Zydeco
Sheri Mignano & Jim Lehmann
Laurie & Elan
Amber Lee Baker
Art Peterson & Laurie Miller
Renee de la Prade & Leslie Jackson
Zia Villa
AUGUST 21, 2022 SUNDAY
(PERFORMERS)
Renee de la Prade & Leslie Jackson
Ginny Mac
La Agencia
Sergei Teleshev & Maria Telesheva
Lady of Spain
Matthias Matzke
 Cory Pesaturo
Sam Reider & Jorge Glem
Alex Meixner
Sheri Mignano & Jim Lehmann
The Steve Balich Polka Band
California Blue Runners
Iko Ya Ya
 Amber Lee Baker
Zla Vila
Nathan & Jessie
Duckmandu