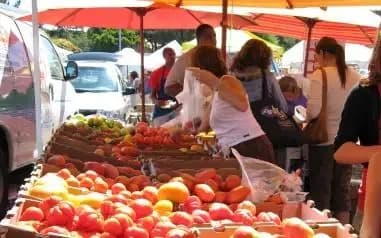 Corte Madera

Corte Madera Town Center, Corte Madera

Wednesday: 12:00 pm – 5:00 pm

Open All Year

Contact: Lynn Bagley (415) 382-7846
Fairfax

Bolinas Park, 142 Bolinas Rd., Fairfax

Wednesday: 4:00 pm – 8:00 pm

Open May – October

Contact: Kelly Smith (415) 999-5635
It is a busy market with lots of activity. Customers can expect lines at the most popular vendors and sometimes early sell-outs of popular items.
Larkspur

Marin Country Mart, Larkspur Landing Circle, Larkspur

Saturday: 9:00 am – 2:00 pm

Open All Year

Contact: Diana Rogers (415) 461-5715
Marin Country Mart offers a wide array of locally sourced eateries like Rustic Bakery, Hog Island Oyster Co., and Farmshop, as well as a weekly Farmers' Market, year-round.
Mill Valley

CVS Parking Lot 759 E. Blithedale Ave. @ Alto Shopping Center, Mill Valley

Friday: 9:30 am – 2:30 pm

Open All Year

Contact: Lynn Bagley (415) 382-7846
A live synergy takes place between neighbors, friends, families and our region's food producers who display their colorful agricultural bounty and culinary creations at our farmers' markets. A send of community and well-being is created.
Novato
1707 Grant Ave. @ 7th St., Novato

Tuesday: 4:00 pm – 8:00 pm

Open May – October

Contact: Kelly Smith (415) 999-5635
Enjoy an abundance of fresh produce from local farms, fresh prepared foods, locally produced cheese and honey, sweet kettle corn, and much more. If you stay for dinner, there's something for everyone including Thai food, rotisserie chicken, Himalayan and Yucatan foods, BBQ, and more.
San Rafael

Fourth St., San Rafael

Thursday: 5:00 pm – 8:00 pm

Open May – September
The market features an exciting mix of new and returning farmers and purveyors. You'll discover and connect with farmers selling a bounty of seasonal fresh fruits and vegetables. Savor the Summer Farmers Market with farm-fresh produce, honey, wine, baked goods, flowers, cured meats, jams, pasta, handmade crafts, and community.
Thursday Marin Farmers Market

Veterans Memorial Auditorium Parking Lot, San Rafael

Thursday: 8:00 am – 1:00 pm

Open All Year
The Thursday Marin Farmers Market is known as the local chef's market welcoming premier chefs from around the Bay Area seeking out the freshest ingredients of the season. Centrally located at the Civic Center in San Rafael, the Thursday farmers market offers a mid-week shopping opportunity. The Thursday market is also one of the most anticipated lunch destinations of the week.
Thursday Sunday Marin Farmers Market

Civic Center Parking Lot on Peter Behr Drive, San Rafael

Sunday: 8:00 am – 1:00 pm

Open All Year
The Sunday Marin Farmers Market first opened in 1987 and has grown to become the third largest farmers' market in California. Local eaters and visitors alike, convene every Sunday to enjoy the fresh, seasonal harvests of California's world-renowned farms and ranches, as well as discover some of the most sought-after prepared foods in the region. The New York Times listed the Sunday Market as one of the top places to visit in Marin.
Pt. Reyes Station

Toby's Feed Barn

11250 Hwy 1, Pt. Reyes Station

Saturday: 9:00 am – 2:00 pm

Open June – November
Filled with home-grown produce and community fun, the Point Reyes Farmers Market is the only all-local, all-certified organic produce market in the wider Bay Area.
Tomales

CA-1 & 1st St., Tomales

Third Saturday of the Month: noon – 4:00 pm

Open June – October
Originally called the Tomales Swap Meet, it quickly brought together residents and tourists in a day of selling, shopping, and happy camaraderie.