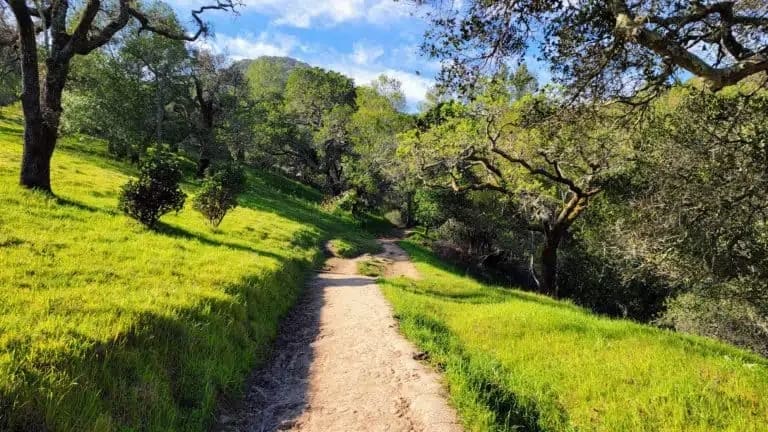 If you are new to hiking and looking for an easy route, this one's for you. Try this 2.5-mile kid-friendly trail and enjoy the beautiful views of nature. The route is a bit rocky, so choose footwear accordingly. For this one, please leave your dogs at home.
This beautiful redwood trail uphill is a 6.2-mile loop and is considered moderate. If you are into bird watching and nature tripping, you will definitely love this. Enjoy the hike alone or with family and friends. Unfortunately, dogs are not allowed.
Short, sweet, and strenuous! This trail is perfect for keeping the children (and children-at-heart) off the computer and enjoying the real world. Finishing the two-mile loop will surely squeeze the endorphins out of the body and bring an enchanted feeling because of the consistent elevation and a fantastic view at the top.
Need some muscle stretching together with your four-legged buddy? Try this three-mile loop to find a beautiful forest at the end of the trail, perfect to practice solitude. Just don't forget to snap a pic of your map before you head out, as the trailhead is quite tricky. An added adventure for you and your best friend!
One of the best reasons to get your heartbeat up is to take this short outer loop with your family (including your favorite pooch). Enjoy a break with beautiful benches on top of the hills. This 2.2-mile loop is worth the workout because of the wildflowers and countless oak woodlands that will quickly capture your attention. A sun-kissed skin after the hike is a plus!
Anxious about navigation? Worry no more with this 8.2-mile West Ridge Trail. This offers a well-signed, open, trail that can be friendly for first-timers (and even the hiking champions). Worth the effort because of the lake and gorgeous views of Sonoma County. Excellent for biking and trail running as well. You can bring your dog on a leash!
Blue sky, green grass, cooler temps, and a heart full of gratitude – these are the things you will expect as you take this 5-mile trail. This is perfect for bird watching and nature tripping with your kids and dogs as the trail has a slight elevation. It's not generally crowded, you can find your groove!