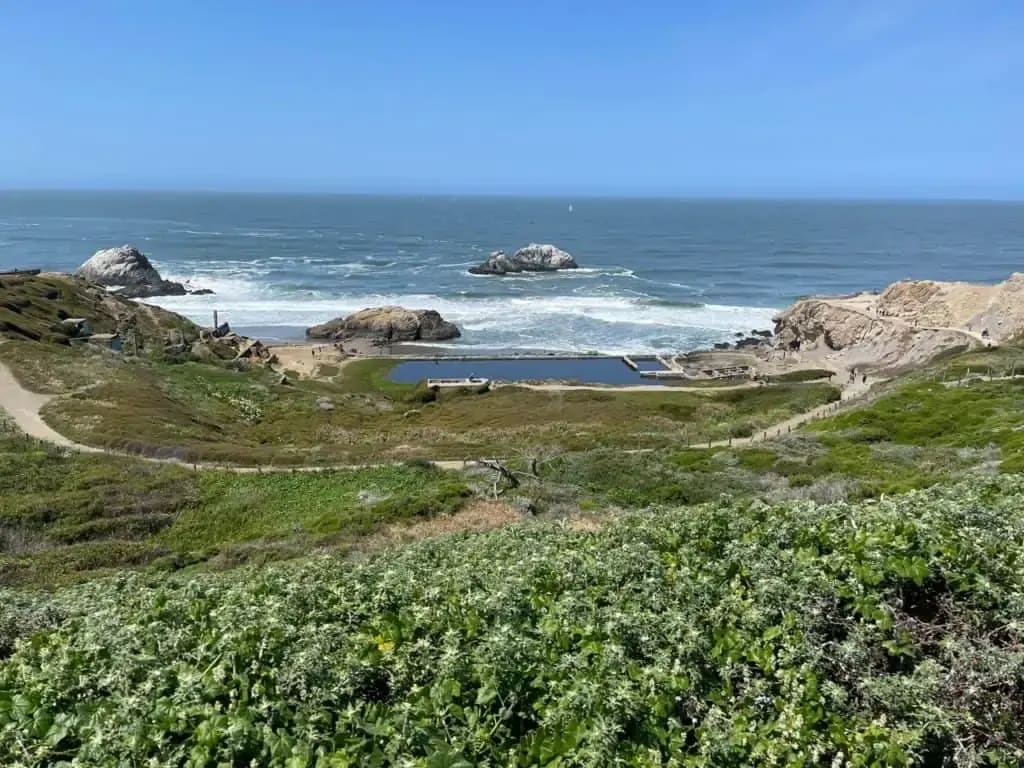 Lands End Trail
– 3.4 miles, historic hike, views of Sutro Baths, Golden Gate Bridge, and more.
Lands End's trails offer a windy experience around rocky cliffs above the ocean with picturesque views along the way. This is a very popular area for hiking, trail running, and walking, so you'll likely encounter other people while exploring. The trail is open year-round and is beautiful to visit anytime. Dogs are welcome but must be on a leash.
Golden Gate Park Loop – 6.3 miles, gives you views of all of Golden Gate Park. Feel free to explore the Japanese tea gardens or bring the kids for a picnic halfway through the loop.
The perfect event for avid walkers and runners, this route guides participants through some of the most scenic parts of Golden Gate Park.

A bit of a hidden spot located at the edge of San Francisco, this location has spectacular coastline views of Ocean Beach. Enjoy some solitude during quieter times of the day. Dogs are welcome but must be on a leash.
Mount Davidson
– 1 mile, quick and easy, highest natural point in San Francisco!
Its most noticeable feature, aside from its height, is the 103-foot concrete cross at its peak. Seen from above, there is a clear division between the mountain's eucalyptus forest on the west and coastal scrub and grassland on the east. Mt. Davidson has significant natural and recreational resources. The diversity of vegetation provides a habitat for a wide range of migratory and resident birds, including 18 locally sensitive species. Myriad trails traverse the western slopes, where the densely overgrown vegetation and fog drip give a hiker the feeling of being in a rainforest.
Lake Merced Loop
– good for bikers, and walkers, and dog friendly! 4.5-mile loop, go on a sunny day!

Lake Merced is major water, recreational, and natural resource for the City and County of San Francisco and the surrounding area. It is also an important stop for migratory birds on the Pacific Flyway. More than half of the park is managed by the Recreation and Parks Department's Natural Areas Program, which works to restore and protect habitats for birds and other wildlife, as well as to maintain and improve trails.
The Baker Beach Coast Trail meanders amongst the bluffs above Baker Beach, and has a stunning view of the Golden Gate Bridge, and the Marin Headlands. Start from the Fort Point National Historical Site.